10 Best Bottles For Breastfed Babies
Breastfeeding is considered the best way to feed your baby in their initial stages.
While feeding your baby formula milk is not bad or anything, breastfeeding is considered better by doctors.
But, you can feed your baby only via breast till a certain point.
Sometimes you don't want to wake up every night to feed your baby, or you might have to return to work or be in a public place or an event.
That is why you need to buy the Best Bottles For Breastfed Babies.
You can pump your breast milk into a bottle, and you don't need to be present every time to feed your baby. It also tackles the difficulties of feeding in public places or events.
When should you introduce your Baby to the bottle?
Some parents are confused about when to introduce their baby to a bottle.
There is no specific moment for when to can introduce the Bottle.
However, it is best to breastfeed for a few weeks or even months and then introduce the Bottle.
But if you are having difficulty breastfeeding due to the baby latching on to nipples or something else. You can introduce the Bottle.
Also, if you are tired at night or have to return to work, you can introduce the Bottle.
how should you introduce your baby to the bottle?
Using a bottle to feed your baby is different from feeding your baby from your breast.
Introducing your breastfed baby to a bottle can be a difficult task in its way.
Sometimes babies shift from breast to bottle without difficulty, and sometimes they don't even though you attempt everything.
So, here are SOME TIPS on How to Introduce Your Baby to a Bottle:
how to choose the best Bottles for Breastfed babies?
You may be wondering what will be the best Bottle for your breastfed baby. Choosing the right Bottle is essential. A wrong bottle will do more harm to your baby than the benefit a good bottle will provide.
So, I will mention a few essential things you must inspect in the Bottle before buying it for your baby.
Babies judge things by their appearance.
They are usually more attracted to colourful and shiny objects than dark and dull ones.
A bottle with a nipple closest to yours will help the baby shift quickly.
Choosing the Bottle with a tip similar to the one you have will assist in easing the transition for the baby. So, try to stay clear of unusually shaped or weighted bottles.

It is recommended to pick a bottle with soft-bodied, round silicone Nipples.
A bottle with a flow similar to that of your breast can be preferable to one that is too fast or slow.
A bottle with a poorly designed nipple can turn your baby off breastfeeding.
Your breast nipples make the baby work to drink milk. The baby will prefer a bottle with nipples that directly feeds them.

Bottles with" accordion" style nipples are preferred because of their bend and flexibility to feed the baby.
A vacuum is created in the Bottle when a baby is sucking milk. While breastfeeding, a vacuum is good as it helps maintain the milk flow.

Although, in a bottle, air bubbles can form, which might result in your baby suffering through gasses and colic. So, a bottle with good venting is a must for the baby.
What do parents usually want in a bottle?
Now that we have discussed what kind of bottles babies like.
There are some points that parents have to keep in mind while picking the best Bottle for their baby.
Price is an essential factor for a lot of parents. But, it should not be the final deciding factor.

Price is essential, but using an old bottle or buying a cheap one to save some money is not suitable for your baby.

In the end, you would either have to spend more money on doctors or buy an expensive bottle to compensate for the cheap one.
Cleaning a baby's Bottle can be tedious, especially when you are working on a meagre amount of sleep.

So, a bottle that can be cleaned easily is preferred to other difficult ones.
Bottles with poor venting can lead to your baby suffering through gasses and colic.

The cries of a baby suffering from colic are like an atom bomb blast to the ears of underslept and overly tired parents.

Therefore, parentsshould ensure that venting is good and air bubbles are not formed in whichever Bottle they buy.
A bottle goes into your baby's mouth. You don't want to put anything that can be harmful or toxic in your baby's mouth. So, check that the Bottle doesn't contain anything toxic.

As mentioned previously, the material should not be tedious to clean. Nowadays, many good quality plastic and silicone bottles are available in the market.
BEST BOTTLE FOR YOUR BABY
| Image | Product | Price |
| --- | --- | --- |
| | Best Budget Pick | Price |
| | Best Budget Pick | Price |
| | Best Glass Bottle | Price |
| | Best For Colic And Gas Bottle | Price |
| | Best for Travel | Price |
| | Best for Pace Feeding | Price |
| | Best for "NO EFFORT" Feeding | Price |
| | Easy-to-Clean Bottle | Price |
| | Most Innovative Bottle | Price |
| | Best for Natural Latch | Price |
best budget Pick
NUK SIMPLY NATURAL
Baby Bottle, 5 Ounce & 9 Ounce
Anti-Colic system
Close-to-Mom feel
3 to 9 nipple holes
Natural and Comfortable feed
They have a capacity of 9 ounces and come in a pack of 2.
They can be easily used to feed newborns even after they grow up.
NUK bottles have nipples with multiple holes to resemble a mother's breast. Also, the nipple is flexible according to the baby's movement, meaning they won't break the latch that often.
It has an Advanced 1-piece Anti-Colic Air system that helps reduce colic, gas and spit up.
The Bottle is odor, stain-resistant, and made of BPA-free crystal clear Tritan, meaning it will look newer for quite some time.
Also, a dishwasher can clean them without any problem.
Pros
Inexpensive
Breast like feel
Good Anti-Colic system
Good quantity
Easy to clean
Cons
Cap can be tough to pull
Baby needs to be in the perfect position to suck milk properly
---
Suggested: 10 Best Wearable Breast Pump
Best Plastic Bottle
MIMIJUMI GET GOING
Baby Breastfeeding Bottles
Breast-Like Baby Bottle
Prevents Gas and Colic
Safe Newborn Essentials
Practical
Unique Design
The nipple appears similar to a mother's breast making it easier for the baby to identify.
Besides appearance, the nipple also feels like the mother's breast tricking the baby into believing it is real.
This breastfeeding bottle has an anti-skid bottom and only two parts, so it can be assembled one-handed.
The material is easy to clean and has a great venting system to keep the baby safe.
The Mimijumi baby bottle set doesn't contain any harmful chemicals. The nipples are made of medical, food-grade silicone and are durable and safe,
Grilamid nylon bottles exceed safety regulations making them more than suitable for your baby.
Pros
Similar to the mother's breast
Easy to assemble
Anti-colic
Easy to clean
Safe and durable plastic
Cons
It can be difficult to screw the top
A little expensive for some
---
Best Glass Bottle
PHILIPS AVENT NATURAL
 Natural Glass Baby Bottle
Soft nipple
Natural latch
Flexible spiral design 
Anti-Colic Airflex vent
Philips Avent has a long line of fantastic baby products.
And one of them is "Philips Avent Natural" baby bottles.
The nipples of these bottles have a realistic feel for easy switching. They are soft silicone and more comprehensive than many other nipples.
Any nipple from Philips Avent can be used.
The Bottle contains an advanced anti-colic system directly integrated into the nipple with no extra hard-to-clean parts.
"Philips Avent Natural" is made of premium quality, pharmacy-grade borosilicate glass. The Bottle is heat and thermal shock-resistant.
Pros
Similar to the mother's breast
Easy to assemble
Anti-colic
Easy to clean
Safe and durable material
Any nipple from Philips Avent is fine
Cons
Less quantity
Can't withstand when milk temperature changes
---
Best For Colic And Gas bottle
MUNCHKIN LATCH NEWBORN BOTTLE
Anti-Colic Baby Bottle
Doctor recommended
Flexible Nipple
Anti colic valve
Compatible Pump Adapter 
The bottles are BPA-free, easy to clean and have a 4 ounces quantity.
They come with two stage-1 slow-flow nipples, one stage-2 medium-flow nipple, and three sealing discs.
They are recommended by doctors for healthy feeding and sleeping for the baby.
The nipples are stretchable and flexible, making it easy for the baby to latch.
Anti-colic valve is uniquely located at the bottom of the Bottle to reduce gassiness and fussiness.
The pump adapter is compatible with leading breast pumps, including many like Medela, Lansinoh, and Evenflo.
Pros
Stretchable and flexible nipples
Anti-colic
Affordable
You can pump directly into a bottle.
Cons
Cleaning can be tiresome.
Will leak if not assembled correctly
---
Best for Travel
COMOTOMO 8 OUNCE
Baby Bottle, Green, 8 oz
Seamless Transition
Designed to Latch
Easy to Clean
Anti-Colic Vents
Soft & Squeezy
Comotomo is built in a way that gives a good feel of the breast to the baby.
It is effortless to clean, and the wide neck lets you put your hand in to wipe off dirt and dust. (just in case)
The Bottle can carry up to 8oz and comes with two medium-flow nipples designed for three months to six months old.
The Bottle has innovative, non-leaking vents for consistent milk flow that help to prevent colic, gas, and spit-up.
They are made of safe, high-quality, food-grade silicone and offer a comforting, skin-like feel. It is also BPA, PVC, and phthalate free.
Also, the bottles are very soft and squeezy, enhancing the feeding experience for your baby.
Pros
Can withstand heated milk
Anti-colic
Easy to clean
Realistic feel making it easy to switch
Cons
It can be expensive for some.
It smells like plastic when milk is heated
---
Best for Pace Feeding
DR BROWN'S OPTIONS+ WIDE-NECK BABY BOTTLES:
DR BROWN'S OPTIONS+
WIDE-NECK BABY BOTTLE
Breast-like shape
Preserve nutrients
Offers flow rate 
Aids in digestion
BPA Free, dishwasher, and sterilizer safe
These bottles help reduce gas and hiccups that babies may suffer from while fed via a bottle.
The contoured nipple shape and high-grade, soft silicone offer a more comfortable feeding experience and help to avoid nipple confusion in the baby.
They preserve nutrients in breast milk and formula.
The flow rate of milk is very simple to that during breastfeeding.
The Bottle is made of BPA-free material, which is easy to clean.
It has a Proper venting system to prevent colic and other problems.
Pros
Preserve Nutrients
Good flow rate
Anti Colic
Safe to use
Easy to clean
Realistic feel making it easy to switch
Cons
Hectic to put together
May leak if laid down
---
Best for "NO EFFORT" feeding
MIMIJUMI NOT SO HUNGRY BOTTLE
Designed with baby in mind
Free of harmful chemicals
Easy-to-clean
Integrated venting system
Babies can control the flow and pace of feeding.
Baby will have to work to drink milk, just like in the case of nipples.
The Bottle is free of BPA, BPS, and other harmful chemicals in traditional baby bottles.
The Bottle can be assembled quickly and is easy to clean.
Pros
Good flow rate
Anti Colic
Safe to use
Easy to clean
Similar to the mother's breast
Cons
The baby may not switch easily.
---
Easy-to-Clean Bottle
Playtex Baby Nurser Bottle
Pre-Sterilized Disposable Drop-Ins Liners
Closer to natural breastfeeding
Anti-colic feeding
Pre-sterilized for cleanliness 
Fast bottle warming
Designed for on the go moms
The Bottle is designed to encourage proper latching and promotes healthy feeding in the baby.
You can add Pre-Sterilized disposable Liners making it no effort to clean.
Moreover, the liners prevent air from mixing with milk, preventing colic and other problems.
The Drop-In Liners are thin, making it quicker and easier to warm the milk.
All bottles are BPA, PVC, and phthalate free, making them safer.
Pros
Sterilized bags make them hygienic
Anti Colic
Safe to use
Easy to clean
Can carry a good amount of milk
Easy to put together
Cons
If the baby consumes less than the bag can hold, squeezing air out can be tedious.
---
Most Innovative Bottle
NANOBEBE BABY BREASTFEEDING BOTTLE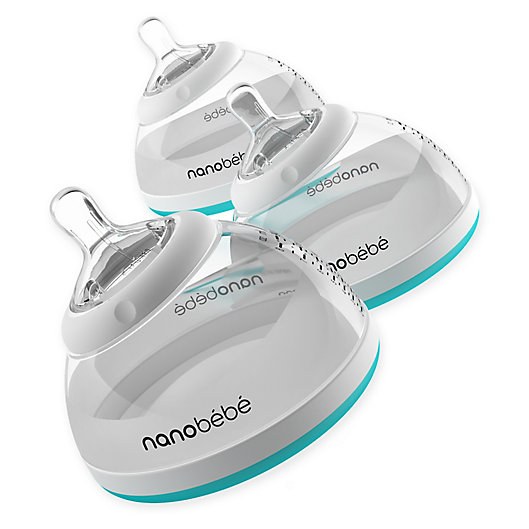 Slow Flow Breast-Like Nipple with Anti-Colic Valve
BPA, PVC, lead, and phthalate-free
Preserves Nutrients
Anti-Colic
Dishwasher and freezer safe
Mothers can efficiently pump milk directly into the Bottle.
They are designed to heat the milk and preserve its nutrients evenly.
The bottles are dome-shaped and can be easily gripped by the baby.
The shape is similar to the breast, making the transition smoother from Breast to Bottle.
Nanobebe nipples have an Advanced 360° Venting System that fights colic by reducing air pressure inside the Bottle during feeding.
You can stack one Bottle above another, making it easy to store.
Pros
Faster heating as well as a cooling system
Anti Colic
Consumes less space
Good grip for the baby
Cons
You might not see your baby's face due to the massive shape of the Bottle.
It might leak if not assembled correctly.
---
Best for Natural Latch
TOMMEE TIPPEE CLOSER TO NATURE
9-ounce baby bottle 
Natural Feel
Anti-Colic
Easy Transition
Baby-Safe
The nipples have a breast-like feel. They are soft, silicone, and flexible for feeding.
They support babies transitioning from breast to bottle with their breast-like shaped bottles.
The nipples have an anti-colic valve that reduces excessive air flow, so little ones ingest more milk and less air, preventing colic symptoms.
The latch is so good that the baby readily accepts it. It also offers different flow rates for the baby.
Multiple sizes are available and can be held in various positions.
Pros
Realistic feels of the breast for baby
Anti Colic
Easily accepted by babies
Safe to use.
Cons
Measurement rubs off after some time.
Nipples need constant changing if the baby has chewing habits.
---
Suggested: 10 Best Baby Monitors Without WIFI
What is Pace feeding?
Pace Feeding refers to the method in which parents let the infant be in control of the pace of feeding.
This method slows down the feeding process and allows the baby to consume slowly and take breaks.
Pace Feeding reduces the risks of overfeeding the baby and is usually recommended for babies that are either entire Bottle fed or fluctuate between breast and bottles.
steps to follow while pace feeding!
If you continue to follow these steps, the baby will learn to pace themselves after some time.
Infants will take breaks on their own between sucking. Also, if you hold your baby in an upright posture and hold the bottle flat, the baby will have better control.
when to not pace feed
While pace feeding looks good, it is not always beneficial. While it is mostly fine, you should avoid these cases:
If You Have A Naturally Fast Letdown:
If you are one of those parents who naturally have a fast letdown, you should avoid Pace Feeding.

This is because your baby is already used to a fast-feeding flow, and if you suddenly try to slow down the pace, they may feel frustrated and annoyed.

So, feed your baby at your natural place instead of trying to pace feed.
If Your Baby Is Suffering From Colic or Gasses:
If your baby is suffering from colic or Gasses, steer clear from pace feeding.

Trying to pace feed your infant while they are going through colic or gasses will worsen their situation instead of improving it.
how to tell if the baby is full?
While breastfeeding or bottle feeding, most new parents wonder, "How to Tell if the Baby is full?".
Toddlers or kids can usually tell when they are full. But infants don't know when they are full or hungry.
So, here are some signs that you should look for in your baby while feeding them:
Baby turns away from Breast/Bottle:
While feeding, if your baby starts to turn their face away from the breast or the Bottle, usually they are complete.
Baby Starts Crying while being Fed:
If your baby starts fussing or crying while you try to feed them, their stomach is satisfied.
Baby lets out a Wet Burp:
In case your baby lets out a wet burp where the milk starts to come out of their little mouth. This is your cue that they are well-fed.
Baby starts Falling Asleep:
Suppose your baby starts falling asleep while you are trying to feed them. Usually, they are complete and satisfied.
Baby Let's Go of Your Breast:
If your baby starts letting go of your breast or tries to move away from it. This means they no longer want to be fed.
Baby starts to Feel at Ease:
While feeding, in case the body of your baby starts to feel at ease, i.e., their legs, arms, or fingers start relaxing, they are complete.
Suppose you notice that while they are sucking, the fingers on their hand start letting go and opening up.

In that case, they are usually an indication that they are complete.
If your baby stops sucking or reduces the speed of sucking, they are well fed.
conclusion:
If you have read this far, I think you are all well aware of why to use a bottle, how to introduce the Bottle, and which Bottle to choose.
We have also mentioned our pick for the 10 Best Bottles For Breastfed Babies to help you choose the perfect bottle.
In case you are still facing any problems. It is best to contact your paediatrician and get their expert opinion.
You can also try pace feeding to help your baby develop at a young age and follow the steps to do it without difficulty.
Most importantly, while feeding, be aware of the signs of whether your baby is complete or not. If you accidentally overfeed your baby, they can develop some problems causing them discomfort.
Frequently asked questions (FAQs)